The future of portfolio investment
A system that creates an investment portfolio based on a level of profitability and risk ratio set by you.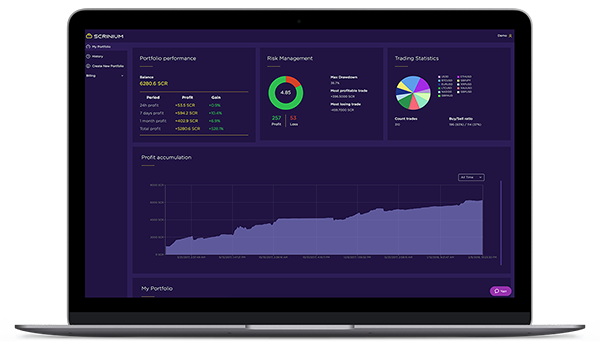 How it works
The investor chooses a level of risk and profitability that suits their needs as well as picking the assets they want to invest in.
There are expert settings for those who are familiar with the market, that include setting the drawdown, trading volumes, limitations and so on.
See our demo
Our Advantages
Decentralised system
Vast pool of liquidity providers for better quotes
Numerous resources for portfolio compilation: Any profitable trader around the globe can be used regardless of the platform they trade on
The contract is non-binding so an investor can withdraw from using Scrinium at any time
Profitable
No fees for either trader or investor
Automatically generated portfolio from the most profitable traders around the world
Scrincoin
Unique deposit asset and internal system currency
Coin rate grows with higher demand for the system's functionality
Blockchain
Fast blockchain transactions
Transparency for transactions
Roadmap
June 2017
Architecture development stage
July 2017
Initial development stage
December 2017
Internal prototype for testing purposes
March 2018
Blockchain contracts integration
April 2018
Digital asset exchanges listing
June 2018
Smart portfolio compilation
October 2018
Extended number of Liquidity providers
FAQ
Which assets will be available: stocks, bonds, currency pairs, CFD, derivatives, cryptocurrencies?

All of the above

Where will the assets of your customers be stored? How will their security be ensured?

Everything will be recorded and stored in the blockchain – the most secure system today, that hasn't encountered any fraudulent cases so far

Will you release the system's prototype?

We're working on a public prototype now and are planning to release its first public version no later than February 2018.

Which technologies is your system based on?

We're using a wide range of technologies, in particular:

Ethereum technology for storing data in the blockchain.
An off-chain Raiden Network solution for higher speeds of transaction recording and lessening the costs of transactions.
IPFS/SWARM and BigchainDB/IPDB* decentralised databases for data recording and storage.

*We'll choose the best technology based on the results of tests performed during the Scrinium development stage.

Why do you need blockchain in the system?

To provide security and transparency for Scrinium transactions.
How does Scrinium generate profit?

Liquidity providers pay us commission for traded volume coming from the Scrinium platform, which is a classic set-up within financial services. We split this payment into system profit and traders' rewards for successful trades.

Does the investor have to pay any commission to Scrinium?

Our unique proposition for investors is that you don't have to pay extra fees to Scrinium. If you are an investor, there's no fee for creating an account and we don't deduct anything from profitable transactions.

Why will traders be motivated to join Scrinium?

Traders receive rewards for trading regardless of the platform/broker the trader uses - they only depend on the profitability of the trades. Moreover, coin value grows with time and the platform's popularity, making SCR your invaluable asset.

Can you demonstrate how AI works?

For now, you have to wait for the public prototype release to see it in action. Meanwhile we're training it to analyse trades according to their profitability and calculate risks of those trades.